SALE! Digital Bluetooth Hands free Car FM Radio Stereo Audio Music MP3 Player / USB / SD with In Dash Slot AUX Audio Input



Price: US $30.62 / piece
Discount Price: US $18.37 / piece







Product ID: 32268058471


---
We Promise:
1. All products are brand new from hi-tech factory directly. so we can sell them at wholesale price
.2. Before shipped out the products, we will test it and do a double check, so we can ensure product quality.
3. If you have any using problem or unsatisfactory with our products, please do not hesitate to contact us, we will solve the issues with sincerity. so please don't worrry to do shopping in our shop.
Digital Bluetooth Hands-free Car Stereo Audio MP3 / USB / SD / FM Player with In Dash Slot
This digital car stereo audio MP3 player can also be a USB / SD / WMA / FM player. It is compatible with all kinds of cars to meet your satisfaction of car MP3 playing. What is more, it supports bluetooth hands-free phones. Easy installed and composed of four loudspeakers to play the music while its sound can be turn up / down by a remote control. Its high quality and durability makes it enable to endure high seismic intensity.
Main Features:
- Electronic system.
- Digital wave car audio MP3 player.
- Support bluetooth hands-free phones( can dial back) and music play.
- Support ID3 & FM radio.
- Preset EQ(POP / ROCK / CLASS)
- Repeat / random / intro play
- Sound of loudspeakers are adjustable with remote control.
- File folder selection and quick song selection function.
- 18 presets memory, can store 18 radio stations(FM: 87.5 ~ 108MHz)
- High fidelity audio format, supporting MP3 / USB / SD / WMA and FM radio.
- Digital clock display, helpful for knowing the exact time.
- Power and memory function, remember power radio stations or music playback status.
- Front AUX audio input, MP3 / MP4 / MP5 or other playback are available through the machine.
- File playback function (press 5 and 6 keys), classification function.
- Car gauge LED display, bright, shining, soft but not dazzling.
- Front isolated channel button, can be adjusted independently.
- Support large capacity SD card, U disk or other memory playback, maximum up to 32GB.
- High / low / left / right / front / rear / tone adjustment, easy to enjoy HI-FI car audio and video effects.
- Multi-circuit protection test(overload, overvoltage, short circuit)
- Full function remote control.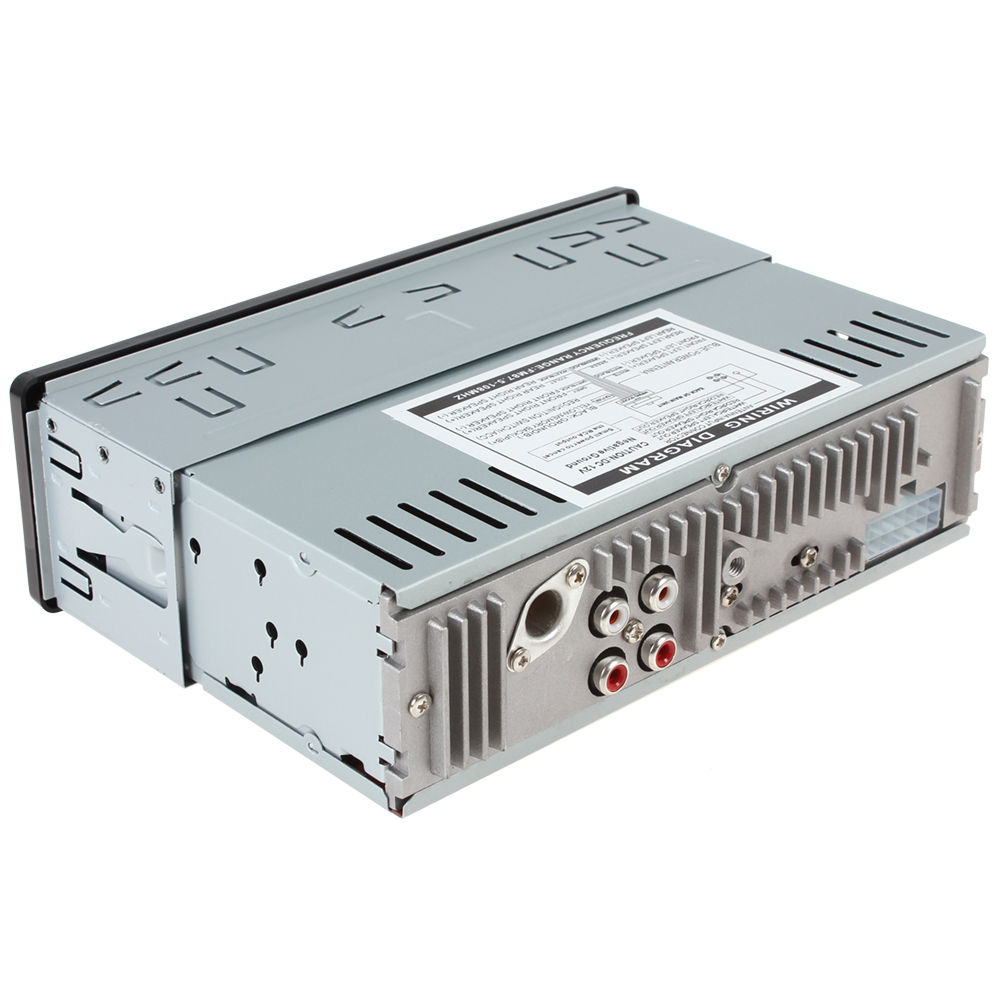 Features:
- Electronic system.
- Digital wave car audio MP3 player.
- Support bluetooth hands-free phones( can dial back) and music play.
- Support ID3 & FM radio.
- Preset EQ(POP / ROCK / CLASS)
- Repeat / random / intro play
- Sound of loudspeakers are adjustable with remote control.
- File folder selection and quick song selection function.
- 18 presets memory, can store 18 radio stations(FM: 87.5 ~ 108MHz)
- High fidelity audio format, supporting MP3 / USB / SD / WMA and FM radio.
- Digital clock display, helpful for knowing the exact time.
- Power and memory function, remember power radio stations or music playback status.
- Front AUX audio input, MP3 / MP4 / MP5 or other playback are available through the machine.
- File playback function (press 5 and 6 keys), classification function.
- Car gauge LED display, bright, shining, soft but not dazzling.
- Front isolated channel button, can be adjusted independently.
- Support large capacity SD card, U disk or other memory playback, maximum up to 32GB.
- High / low / left / right / front / rear / tone adjustment, easy to enjoy HI-FI car audio and video effects.
- Multi-circuit protection test(overload, overvoltage, short circuit)
- Full function remote control.
Quantity: 1
Material Type: Plastic and metal
Color:
- Faceplate: Black
- Rear Cover: Grey
Voltage: 12V
Display: LED
Placement: In-dash SD / MMC slot
Radio Response Bandwidth: 87.5 ~ 108MHz
Resolution: 480 x 234
Power Output: 60W x 4
OSD Language: English
Product Dimension(L x W x H): 188 x 140 x 60mm
Product Weight: 470g
Package Dimension(L x W x H): 215 x 185 x 80mm
Package Weight: 612g
After Sales Service: 1 Year Warranty
EPC_CEC_815
1 x MP3 Player
1 x Power & car speaker cable set
1 x Remote control
1 x Connecting line
1 x Installation fix metal